Elbaman: Triathlon on the island of Elba
Where to sleep on Elba for Elbaman, September 24th
If you are reading this article, it is very likely that there is no need to explain anything to you, what a triathlon is, what Elbaman is....

You have already experienced - even if only mentally - the magic of this island, the strength that comes from the earth, the thrust that comes from the water, the breeze of its winds bringing dry salt, tears and sweat.

Elbaman is not a simple Triathlon, Elbaman is the strength of the Island of Elba that blends with that of the athlete, with the tenacity, resilience and thirst to succeed.



3.8 kilometres are before you: crystal-clear water, kissed by the dawn of a new day, it is your day. It will not be the arrival at the sea to spend a day at the beach, it will not be the sea of Elba for a swim with the family; it will be the start of your new challenge.



Photo by Dad2Tri

180 kilometres on the saddle of your partner, the one who knows how to work together with you, the one who has not left you alone on a long Sunday, when you leave in the dark, the only one next to you on the most burning climbs.
The only one who will know about your adrenaline after the swap, your hunger and thirst, the shivers not from cold but from beauty, when you will arrive together at Punta Nera and you will master the immensity of the sea; the intoxication of the air in your face during the descent, with the Sirocco that pushes you from behind and provides you with relief, lifts you up.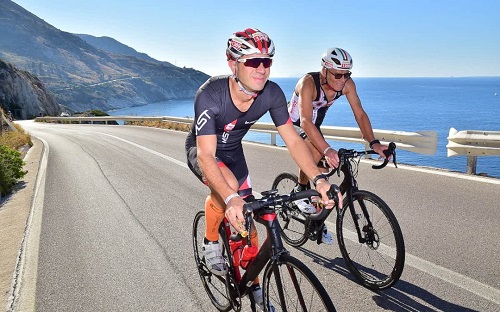 Photo by Dad2Tri

And finally, the marathon: 42 kilometres and 195 meters of effort, again in solitude to fight with cramps, with pain, fatigue and doubt, will I make it, then finding that voice that roars and says I will make it!



Photo by Dad2Tri

You already know all this, you have experienced it in other races and yet it is always different and always new, or you just imagined your first time, you have visualized it within you and it will never be as you thought, because it will be much more.
Choose to sleep at Rosselba for Elbaman
Well, we at Rosselba know what awaits you, and we bear in mind the excitement of the night before the race, the tired smiles on the way back, the group barbecues in the evening after the competition.
We are ready to welcome you if you come as a family, if you come as a group, with your team or if you come alone.